EAGLE PRODUCTS
Present at Maison&Objet Fair
From 19-23 January 2023
HOME LINEN
Hall 5A — Stands E30
High quality blankets, throws and cushions made of pure natural fibers.
Since more than 100 years EAGLE PRODUCTS are made in Germany. So there is a long tradition in producing blankets and throws made of natural fibers. The wool, cashmere, silk and mohair we work with have distinctive qualities you can experience. They warm, but you will not sweat and they are safe because they do not burn. The EAGLE PRODUCTS team is specialised in working with these materials. So we can guarantee best quality and in time deliveries. EAGLE PRODUCTS are designed for a whole lifetime.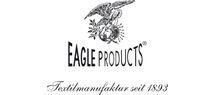 Add
News
17/01/2019 Nesting - Blankets for feeling good

Where dowe feel safe? What do we need to feel good? We now know that better than a few months ago. A cozy home is definitely one of them. Plaids, blankets & pillows provide warmth, security, cosiness and the right dash of color in the right place.