TOUT SIMPLEMENT,
Present at Maison&Objet Fair
From 18-22 January 2024
SMART GIFT
Hall 2 — Stands D9
Design objects for the home and custom made design objects for companies, museums, institutions and event planners. Made in France.
Resolutely focused towards an eco-friendly production process, we reinvent daily use objects since 2003, by proposing a functional and refined design. Smart, practical, timeless, iconic, each object has its own history and personality. Designed and made in France, they reflect our region rich in heritage and in local know-how (watchmaking requirement for carved and openwork metal, expertise in wooden pieces from sustainable forests). We also provide the possibility to customize each product and propose custom-made projects.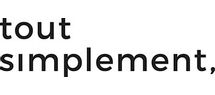 Add
News
28/08/2020 tout simplement, 3 secteurs

— Découvrez notre offre autour de 3 secteurs : collection I musées & sites culturels I sur-mesure.

21/06/2019 tout simplement, minimaliste

Résolument tournés vers une démarche de production éco-responsable, nous ré-inventons les objets du quotidien en proposant un design fonctionnel et épuré. Malin, pratique, intemporel, emblématique... chaque objet possède son histoire et sa personnalité. 
Pensés et fabriqués en France au cœur du massif jurassien, ils sont le reflet de notre région riche en patrimoine et en savoir-faire locaux.

20/05/2019 SOLAR & LUNAR - Les nouvelles broches magnétiques imaginées par Constance Guisset Studio et éditées par tout simplement,

Solar et Lunar sont deux collections de broches hypnotiques. Très légères, elles s'attachent à l'aide d'un aimant, sans abimer les vêtements. Les différents modèles peuvent être portés seuls ou en duos, afin de créer de fascinantes compositions. Le soleil a rendez-vous avec la lune...