MEISTERWERKE
Creators of fine woven art.
Our love of art and textiles requires that we create unique and bespoke desired items. Every piece that we create is designed, woven and embroidered while steeped in the grand tradition of Flemish artisanship and innovation. Craftsmanship, traditional techniques, and creativity: these are the inherent values of the MEISTERWERKE wall-art and "Paravents". Our master artisans bring together the best modern practices and the ancient artistic values that we personify at MEISTERWERKE.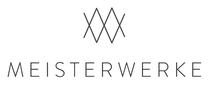 Add to selection
News
17/01/2019 Meisterwerke sublime l'art du tissage avec les 'Femmes de Delft' à Paris

Meisterwerke lance sa deuxième collection, baptisée « Les Femmes de Delft ». Les panneaux représentent une jeune femme au dos tatoué de motifs de Delft, avec un paysage typique des peintures de Vermeer en arrière-plan – une composition puissante qui marie de nouveau l'ancien et le moderne de façon magistrale. Pour ce projet, la créatrice a noué un partenariat avec Royal Delft.

19/01/2018 Meisterwerke revient à nouveau à Maison et Objet avec tension originale.

Après notre présence remarquée en septembre avec la collection « The Historians », on peut à nouveau s'enthousiasmer de la collection de Meisterwerke a Maison et Objet. Cette fois-ci encore on pourra admirer des paravents et panneaux acoustiques. Les portraits historiques de nobles femmes et hommes sont accompagnés d'une nouvelle collection « Les femmes de Delft ». Une femme, deux personnalités.