WOODEN STORY
WOODEN STORY, inspired by nature, created by us. Organic , toy shop. Made in the Beskids, Poland, "fsc" certified, eco-certified, responsible toys and winner of the "Must have design" award, peace and love.
We create our toys and children's furniture in beautiful, natural, surroundings - the Beskidy Mountains, Poland. As we are a family running manufacture we take care of every single piece of wood with a lot of attention -our products are handmade and free of harmful chemicals. They came to us from the forest. Ideas like recycling, environmental protection, the beauty of trees and colours will stay with us through their entire life. There is one more thing that makes our toys so special - they can be passed from generation to generation.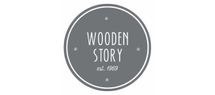 Add
News
20/08/2019 Wooden chair

Our chairs have been designed with the thought of those moments in a child's life when with grave focus on their faces they are engrossed in drawing, painting, looking for a way in the maze on a paper in front of them, or .... the possibilities are endless. At those moments our chairs will support the child's back and spine, at others they will serve as a rack for clothes prepared for the morning.

20/08/2019 Bowling set 10 pcs

Naturally produced set of 10 bowling pins and 2 bowling balls made from soft wood.They rest in an unbleached and organically weaved white cotton sack.Made of selected wood that comes from FSC certied suppliers.

20/08/2019 Wooden Doll

Doll - a new wooden member to our Wooden Story family. This toy is neither a girl nor a boy. It sparks your creativity. It will also help improve your motor control - it's armsand legs are movable so you can train your dexterity by dressing up their new friend. This toy is a perfect companion to have on adventures of all scales.