UN SOIR A L'OPERA
UN SOIR A L'OPERA presents anan olfactory collection inspired by the great works of the Opera repertoire.
We have created a collection of original scents, composed by French perfumers. Each of our fragrances is a tribute to an evocative masterpiece: Romeo and Juliet, Don Giovanni, Carmen ... French elegance, Made in France, for a timeless collection, available in candles, home fragrances and diffusers. <BR> <BR> To create a different atmosphere in your shop or concept store, we are happy to help you in the choice of products or fragrances. Come and visit us all year round at the iconic Bon Marché Rive Gauche.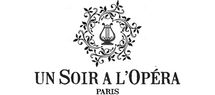 Add
News
24/08/2021 THE MARRIAGE OF FIGARO

New - Septembre 2021 HOME FRAGRANCE - Citrus Roses - Petitgrain - Eucalyptus Available in candle 180 gr and 1 Kg - Reed diffuser and Room spray Suzanna has left her bridal hat made of roses and orange blossom flowers, in the shade of this Sevillian garden full of lemon trees and fragrant eucalyptus scent. This is a crazy day that begins for Figaro and Suzanna, in a romantic crossover at the end

24/04/2021 SOAP OPERA

Soap with Sweet Almond Oil, Sandalwood - 100 gr Whether on the stage of the Opera or in your favourite "Soap Opera", the components are the same: drama, jealousy, family intrigues, betrayals and passions ... Enjoy this little funny soap !

24/04/2021 MEDITATION - NOUVELLE BOUGIE PARFUMEE

PARFUM RESINES D'ENCENS OLIBAN - BENJOIN Huile essentielle d'Elemi – Oliban – Styrax – Benjoin Bougie végétale 180 gr - 1 kg 3 mèches Les notes de la Méditation de Thaïs invitent au voyage spirituel alors que les fumées d'Oliban et de Benjoin rejoignent les cieux antiques de l'Orient et les rituels des premiers siècles.