LES MOTS DOUX
Once upon a time there were jewelries as sweet as words whispered in your beloved's ears. Magic and Morse code jewelry.
The fine pearls from Japan take the code of the Morse alphabet and sublimate its links in secret messages. These jewels are entirely handmade in France, and filled with magic. Custom-made: the name of your lover, those of your children or a particular date? The sweet words are customizable at will. More than just jewelry, LES MOTS DOUX are a real little lucky charm! Hand Made with love in France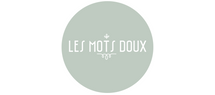 Add
News
15/04/2021 Les Mots Doux x Touché Collé

Do you know "Touché Collé"? A brand full of bagou and happiness that uses the sweetest (and funniest) words of our dear children on tee-shirts and sweatshirts screen printed with love and humor in France. We designed this capsule collection that celebrates Moms hand-in-hand with Marie-Charlotte, and we hope you enjoy it as much as we enjo

23/03/2021 Let's talk about lucky charms

We explain everything about the trend for lucky charms and charms.

26/02/2021 Customed Jewelry

Want a tailor-made creation with your visual identity and your colors Jewelry entirely made in France and by hand in France.