MALABAR
Artistic Furniture
Established in 2012 with the launch of a range of decorative Portuguese Fado guitars and the World Architects furniture collection, Malabar has left its stamp on major international tradeshows such as 100% Design London, Maison&Objet, Decorex, Stockholm Furniture Fair or Seoul International. With a long and strong tradition in artisanal handmade furniture. Our design identity is based on modernizing the architectural and artistic heritage, while seeking to evoke emotions through its pieces. Our unique furniture offer is defined as a preference for noble woods and our artisan's expertise.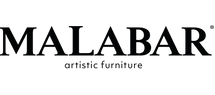 Add
News
02/02/2021 Disclosing the new Future Classic: Mon Ooh Sideboard

Highlighting the collision between fine art, handcraft, and design. Exquisite handcrafted by Portuguese artisans in walnut wood, the Mon Ooh sideboard presents hand-carved abstract elements, which provide uniqueness in every piece made. In addition, the monochromatic future classic sideboard features four aged brushed brass spheres feet.

02/02/2021 Cubism-Inspired: Ih Maj In Cabinet

Inspired by the emphasize combination of forms in Picasso's cubism art paintings, his use of color and geometrical figures, Malabar designers imagined this exquisite and refined art piece. The Ih Maj In cabinet is a tribute to craftsmanship, embellished with a cubism-inspired drawing made with exotic wood veneer through a marquetry work.

02/02/2021 Unlock the power of the imagination: Galar Armchair

Malabar's designers interpreted the famous painting of Dalí, "Metamorphosis of Narciso", and designed this surrealistic-inspired armchair. Supported by four negro Marquina spheres handworked by marble specialized markers, its chubby seating is upholstered in a trendy bouclé textile. The Gala Armchair was designed to be the revolution of your art-filled living room.