PINK PAMPAS
Pink Pampas is an Italian brand that researches and creates 100% handcrafted decorative joyful products in a synergetic relationship with Master Artisans around the world.
Brand's mission is to turn ancient traditions into Design, giving birth to a unique collection of decorative objects born by combining South American most ancient manufacturing techniques with an unusual contemporary twist. Pink Pampas paves the way for the "New Folk" decorative trend, bringing innovation to the classic meaning of craftsmanship in order to support artisans' centuries-old heritage, implementing their work and always granting fair profits.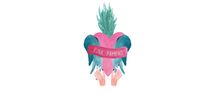 Add
News
26/01/2021 BRING THE WORLD AT HOME - ITALIAN WEEKLY PUBLICATION "DONNA MODERNA" - THE 21ST JANUARY 2021

These pandemic times stopped the possibility to escape from the place we live and leaving for unexplored paradises. Pink Pampas brings directly to your house through its e-shop pop and joyful Ex Voto exclusive styles coming from the other part of the world, testing of that freedom feeling that we all miss a lot!

03/09/2020 CONFIANCE ON MARIE CLARIE MAISON

Ex Voto are considered as an accessories of contemporary decor

19/12/2019 Etno Remix

Beautiful tapestries made by loom by Mexican artists are the colorful unpublished ingredient to complete this editorial, to decorate beautiful spaces or to wear.