LAISSEZ LUCIE FAIRE...
Colored, offbeat and trendy creations for fashion and home.
A collection of quirky and trendy fashion and home accessories... or the famous pound cake recipe : to equal measures of imagination, colors, charm and smile, add a pinch of madness, three grains of exoticism, shake well, leave to rest and enjoy ! With family, friends or at work, LAISSEZ LUCIE FAIRE... will keep the conversation flowing day after day !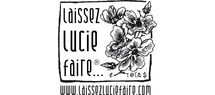 Add to selection