DONKEY PRODUCTS
You are not buying a gift, you are buying story. That is DONKEY PRODUCTS.
The DONKEY PRODUCTS are best described as a "bunch of creative folks". But you may also think of us as pioneers. Why's that? Well, we are always ahead of curve always on the hunt for the new and the different. Like pioneers, we explore the ordinary on a quest for the special. That's when product ideas are brought to life with passion and profession. Think of DONKEY as a place where joy meets aspiration.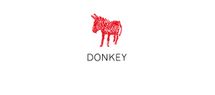 Add
News
26/01/2021 MANEKI NEKO LUCKY CAT - LARGE

GREAT HAPPINESS - GREAT JOY WE HAVE EXTENDED OUR CAT COLLECTION WITH TWO NEW ORNAMENTS. THE CATS, WHICH ARE 30 CM TALL, ARE A GENUINE EYE-CATCHER AND LOOK TRULY MAJESTIC WITH THEIR EXTRA CENTIMETRES. DON'T WORRY - CONTRARY TO ALL SUPERSTITION, THE BLACK VERSION DOESN'T STAND FOR BAD LUCK, QUITE THE OPPOSITE.

26/01/2021 THE MARSONAUT

MISSION TO MARS AFTER OUR ASTRONAUT MADE A FLYING START INTO THE WORLD OF SNOW GLOBES IN TWO SIZES, HE HAS NOW BEEN JOINED BY HIS NEXT DARING, ZERO-GRAVITY FRIEND. WHETHER LARGE OR SMALL, OUR MARSONAUT IS ON AN IMPORTANT MISSION TOWARDS DISTANT GALAXIES AND OFFICE PLANETS, AND IS WAITING TO TAKE OFF.

10/12/2019 THE GIANT ROBOT

SUMMREGLOBE ROBOTS AND SNOWGLOBES ARE STATE OF THE ART. DONKEY PRODUCTS BRINGS BOTH TOGETHER WITH THEIR NEW GLITTER GLOBE ROBOTS. THE DONLEY COLLECTION ALREADY CONTAINS TWO SMALL ROBOT GLOBES IN GOLD AND SILVER. A REAL HEAVYWEIGHT IS THE NEW GIANT ROBOT WITH GOLDEN GLITTER HEAD. HE BRINGS 1.2 KILO TO THE SCALE.