Surrealist curiosities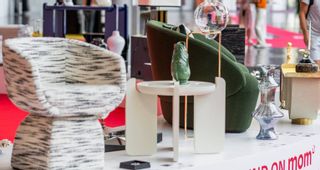 This season, the MOM exhibition space takes the form of a cabinet of curiosities with surrealist overtones. Designed as a private collection, this exhibition presents objects and furniture with singular details, shapes that are sometimes baroque, sometimes animal-like, and noble materials. The atmosphere here is theatrical and chic. And great news: all these pieces are available immediately on the new MOM marketplace.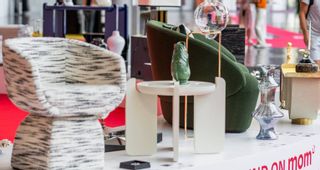 AINA KARI
The Hug of Artisans
Palissandro marble embracing Murano Glass in a twisted double candlestick holder for one of a kind Italian design piece. Haute-de-décor is unrepeatable. Highly collectible pieces that embody the essence of Murano's artisan's unique technique of mouth-blowing. The stunning Murano glass makes this piece truly memorable with its combination of Palissandro marble in a unique silent monumentality.
AKI
AKI AMBER
Amber brings to mind the warm, healthy glow you get when the sun reappears after winter – the sense of feeling relaxed and re-energised that spreads from within, illuminating your face and spirit. It's also connected with nature and the animal and plant world where resin caputured a moment in time of their life. This reminds us to live consciously and enjoy every single moment. Amber lamp lights with a warm glow and like all lamps of the TRUE collection comes in 2 sizes small (250ml) large (750ml)
CHAIRS & MORE
Pampa S
Gleefully extravagant in its proportion, Pampa is a collection of chairs and stools with an unusual and delicate charm. Welcoming in the oversized design of the upholstered backrest, combined witha thin metal structure and a sof seat, the Pampachairs interpret the needs of any environment withimaginatio and delicacy. Linearity and iconography come together in a game of proportion. The filiformharmony of the structure is unbalanced by a rounded and generous back which becomes the distinctionelement of the collection.
O BY !OSMOTIK
Limoges ceramic, silver and ebony jewelry diffuser\" Encounter\ "
Ce diffuseur, véritable bijou d'exception, résulte de la rencontre du designer français Jeanne-Marie Devanz-Rudent et du bijoutier Touareg Alfaki Saidi. pour la maison ou le bureau. Diffuseur d'intérieur à poser sur un plateau après vaporisation d'un parfum (ou dépôt de quelques gouttes d'huile essentielle), ou à tremper dans un parfum d'ambiance pour diffusion par capillarité. en céramique blanche de Limoges agrémenté d'un cabochon en ébène et argent. La texture poreuse de la céramique diffuse le parfum sans le dénaturer. La céramique se nettoie à l'eau et au savon pour changer de fragrance.
PIMAR
Romano (brass coffee table)
Romano est une table basse de forme sculpturale avec des effets de clair-obscur. Le design géométrique rigoureux est une claire référence à l'architecture. Un dialogue entre les matériaux, le laiton comme accent lumineux et la pierre Pimar, lisse et soyeuse. Selectioné pour l'esibition Maison et Objet en Septembre, Paris 2023!
POP CORN
GLUGGLE _ The Original!
Par 24 pièces (MIX COLOR) _ Carafe / Vase _Design Thomas Forester & Son - 1870 _Contenance 1,3L _Dimensions : H27 x D21 cm _Matériaux : céramique _Fabriqué au Royaume-Uni _Compatible au lave-vaisselle _Disponible en plusieurs coloris _ Un poisson… qui gargouille ! C'est à la fin des années 1870 que la cruche GLUGGLE est dessinée par la société Thomas Forester & Son. Cette carafe - vase - en forme de poisson connue son succès grâce à son bruit inattendu et drôle lorsqu'une fois remplie on verse l'eau : "glouglou".
YLUSTRE
Oscar Wilde Quote Pillar Candle - SR
\" One should always be slightly improbable\" Oscar Wilde. A decorative object but also a perfect gift for a birthday! We love this quirky tone and this so British humor by the greatest of dandies! Some phrases inspire us and bring us to the best. Good words are always valuable friends that stimulate our minds. Tinted wax massages, does not flow. CFC-free recyclable paper packaging. Size: 15 x 7 cm — 520g Made in France: Living Heritage Company (EPV)
YLUSTRE
Marie-Antoinette Burner
Ylustre a développé ce brûloir en porcelaine de Limoges pour ses billets doux parfumés. Un bol sein d'une grande délicatesse. Un cadeau élégant et décalé. Rehaussé d'un décor peint à la main et d'un liseré d'or mat et brillant, cet objet polisson est inspiré par la commande que Louis XVI a effectué auprès de la Manufacture de Sèvres pour Marie Antoinette. Décor peint sur la face extérieur. Taille : 90 mm de diamètre ; 50 mm de hauteur. Pied en forme de bague diamètre 20 mm, hauteur 6 mm. Fabrication France.
MALABAR
Fyoo Cher Dining Chair
Libre des règles de mélange de motifs et de formes, cette chaise postmoderne offre une nouvelle façon de rechercher les espaces de design d'intérieur, où l'authenticité est la clé. La chaise de salle à manger Fyoo Cher transforme une salle à manger du moderne à l'art, étant la déclaration de style de n'importe quel espace de décoration.
CONFIDENCES PROVENCE
Vase Alpilles
Vase en céramique fabriqué artisanalement. Son design fera du vase Alpilles la pièce principale de votre intérieur. Il trouvera sa place au côté du diffuseur Mistral ou Sirocco et la bougie Aixoise ou Avignonnaise.
DUPONT BERLIN
marmoratus shell, muranoglass pearl
Pièce d'art unique : objet décoratif - coquille de marmoratus, perle de muranoverre, marbre et base dorée
FORESTIER
Table lamp OPIUM, TIBET & IMPERATRICE
Opium's wires interlock to create a slim silhouette. To be placed or hung, this collection is an invitation to travel and to deep tranquility. Through the serenity of its wire lines, Tibet is inspired by traditional Buddhist lamps. Its forms intertwine to create a singular visual harmony, like a spiritual evocation. Reminding us of the beautiful clothes of the sovereigns, Imperatrice deployed her steel lines with an elegant finesse. Light subtly invites itself to create an atmosphere of great nobility.
REFLECTIONS COPENHAGEN
Apple Bonbonniere
Our Apple bonbonniere is made in emperador marble with a green and clear crystal top. This bonbonniere brings a special and exciting glam and fits perfectly in any home interior. The bonbonniere makes a perfect little place to store things for yourself or someone special.
SOPHIE LULINE CÉRAMISTE
\" PARAKEET WALL LAMP\" PORCELAIN
the delicacy of porcelain for a unique piece entirely shaped by hand without tools. Gilded with gold leaf. A wall lamp delivered with a\ "gold\" bulb and the electrical system to CE standards. other parts possible on order with a delay of 6 weeks.
STENCES
Repeat Vase
A playful silhouette combined with blue glass is the recipe for Repeat Vase. A light & quirky expression that adds life to your home décor. The soft blue colour with a hint of purple, which is easy to combine with other colours and materials in your home. With its oblong opening, the design challenges the classic expression of a vase. An opportunity for the flowers to fall out in different directions and end up with a new and exciting result.
REFLECTIONS COPENHAGEN
Blueberry Bonbonniere
The Blueberry Bonbonniere is created in delicate white onyx and crystal in colours of yellow and blue. The white onyx is a precious natural stone, often used to create special and luxurious items, in this case the Blueberry Bonbonniere. This bonbonniere makes a perfect place to store small things for yourself or someone special.
POLSPOTTEN
Twiggy Candle holder - XS
Materials: gold colour plated brassDimensions: L18 x W11,5 x H14 cmDesign: polspotten studio
MALABAR
Ih Maj In Cabinet
Inspiré par la combinaison accentuée des formes dans les peintures cubistes de Picasso, son utilisation de la couleur et des figures géométriques, les designers Malabar ont imaginé cette œuvre d'art exquise et raffinée. Le cabinet In Maj In est un hommage à l'artisanat, agrémenté d'un dessin inspiré du cubisme réalisé à partir de plusieurs feuilles, comme le chêne blanc blanchi, le noyer américain, le frêne teinté noir, grâce à une technique de marqueterie. Soutenu par deux pieds artisanaux, en bois cylindrique de noyer et pieds rectangulaires en chêne.
GOBOLIGHTS
ALCYON table lamp
In Greek mythology the alcyon is a fabulous bird. Inspired by Art Deco, the "Brass and Opalines" collection is an ode to simplicity. Luminaires with pure lines where geometric shapes and curves are honored. Brass and glass are the two unique materials in this collection.1 Mouth-blown opalines (x12 cm in diameter) .1X LED E14, 750 lm, 2700 kelvin, 6 watts, adjustable. Designed and produced in Belgium. Designed and produced in Belgium. Deadlines: 4-6 weeks. Please send a request for custom made packages and shipping costs.
HELLEN VAN BERKEL HEARTMADE PRINTS
Magritte brooch handmade embroidery
Hand-embroidered brooch inspired by the famous painter Magritte.
IDDO
MOUND POUF WITH LINEN|POUF|LINEN
Découvrez le pouf en lin MOUND d'IDDO, un mélange élégant de confort et de sophistication. Fabriqué avec un cadre en acier durable et une luxueuse garniture en lin, il s'adapte à divers intérieurs. Offrant une expérience d'assise confortable avec un rembourrage moelleux et un design ergonomique, il est idéal pour les salles à manger, les salons ou les bureaux. Conçu par Jurgis Judžentis, le pouf incarne l'élégance intemporelle, rehaussant votre espace avec confort et style. DIMENSIONS : petit - diamètre 35 cm, hauteur 45 cm ; grand - diamètre 40 cm, hauteur 45 cm.
TUTTOATTACCATO
Copacabana Handpainted Ceramic Vase
Inspired by the sidewalks of Rio de Janeiro beaches, the Serlio 'pattern' collection evokes the artist's emotional connection with Brazil. A unique ceramic carafe fully hand-painted where the pattern wraps around the entire vase finished with a matt glaze that highlights the artisanal details. Bring some tropical joy to any table.
VG - VGNEWTREND
CANDLEHOLDER OCTOPUS X10
Pirex candleholder, ideal for interior decoration of restaurants, wedding and events, home decor. Made to order item, production takes approx. 6 / 8 weeks
MAISON VIVARAISE – SDE VIVARAISE WINKLER
Outdoor cushion Suzy Mousse 45 x 45
100% Polyolefin. Washing at 40°, Whitening Bleach: no, Drying moderate 60°, Ironing unauthorized, Cleaning Dry cleaning
IBRIDE
Bedside Table Junon
Legendary protector of the Capitol, ancestral guardian of countryside farms, Junon the goose gracefully watches over the nights of great dreamers. The helpful goose, a bedside table equipped with a USB port to power up cell phones, creates a poetic atmosphere: wearing a pivoting lampshade, she allows subtle louvered rays of light to filter through the room.