AZMAS RUGS
Present at Maison&Objet Fair
From 08-12 September 2022
Fine handwoven rugs. We are proud to work with the skilled weavers of the desert state of Rajasthan in India and promote the ancient craft of rug weaving with our design ideas.
Azmas Rugs is a story about expressing and creating ideas on cloth. We undertake to explore ideas and design concepts and evaluate how we can bring those ideas into our rug story. We believe that creativity is the golden thread that is woven into the warp and weft of a rug. We are not confined to any particular kind of weaving. We opt for hand knotted constructions when there is intricacy in the design of a rug; and choose a flatwoven weave when we want to display simple harmonic pattern.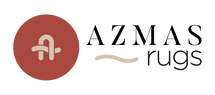 Add
News
15/04/2021 Azmas Rugs in the Spring 2021 issue of Cover Magazine

Azmas Rugs dans Cover Magazine printemps 2021

12/08/2020 Tapis Glitch

Glitch Rugs have deliberate flaws in their designs. Mircea Eliade posited the concept of "eternal return" in his book "Images and Symbols": What is the meaning of all these myths and all these rites? That the world is born, disintegrates, perishes and is reborn in a very rapid rhythm Our glitch rugs are focused on using striping and liquification to explore these within flatweaving.

10/08/2020 colorform rugs

Colorform patterns use various techniques such as yarn mixing, weft ikat weaving and "abrash" (dyelot variation) in order to give the appearance of colors that float within the weave of the textile. Colors are linked to certain areas within a rug and the color contrasts within and between these areas are explored. During the covid19 crisis experimentation proceeded simply with available yarns.