LE GRAND SIÈCLE
Present at Maison&Objet Fair
From 20-24 January 2022
LE GRAND SIECLE brings to life scenic wallpapers and wallpaper patterns of the 18th and 19th c. garnered from collections in the Musée Des Arts Décoratifs de Paris and the Bibliothèque Nationale de France. Scenic/ decor wallpapers, stationery
With its collection of scenic wallpapers, wallpaper patterns and stationery, LE GRAND SIECLE demonstrates his commitment to breathing new life into French decorative arts. In reviving 18th and 19th c. models, Le Grand Siècle aims to revitalise, enhance and promote the particularly French genius in Les Arts Décoratifs, evidenced by 100% French sourcing, featuring hand manufacturing wherever possible, perpetuating French flair from the past in the present.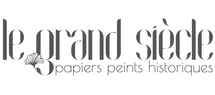 Add
News
26/06/2019 Lancement de la marque LE GRAND SIECLE, en partenariat avec le Musée des Arts Décoratifs de Paris et la BNF

Le Grand Siècle ré-édite des panoramiques et papiers peints des 18 et 19è siècles issus des collections du Musée des Arts Décoratifs de Paris et de la Bibliothèque Nationale de France. Ainsi, à travers l'édition de papiers décors, de panoramiques et de papeterie, la marque redonne vie, de façon engagée, aux Arts Décoratifs à la française.