VERDIER COUTELLERIE
Established in 1859 near Thiers – the French capital for cutlery from at least six centuries –, Verdier Coutellerie is a family run business, heir of a traditional craftmanship acquired through ancestral experience in blacksmith and cutlery.
Thanks to its expertise in different domains, Verdier Coutellerie is proud to produce 100% made in France products adapted to all kinds of budgets. As a French company, it is not only our wish but also our obligation to work with local businesses in order to promote and support our economy. Since 1859, date of our first trademark registration, six generations of cutlers have worked hard to propose one of the most remarkable ranges of French cutlery: professional and household knives, kitchen utensils, flatware and regional and pocket knives.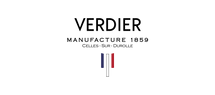 Add
Ateliers d'Art de France member
News
29/07/2019 New packagings

Since April 2018 we've been working on the conception of eco-responsible packagings. Our objective is to reduce to the maximum the quantity of plastics used in our supports and packagings. In order to achieve that we've established a partnership with a French company of the Thiers region.