THE WATTSON COLLECTION LAMPS
Our signature collection of desk, wall and hanging lamps inspired by the iconic Mr. Wattson action figure lamp.
The iconic Mr. Wattson, drawing his design inspiration from the headlamp of the iconic 1946 Vespa scooter and toy action figures of the 1970s, Mr. Wattson is a handmade lamp crafted from beautiful ash wood and high-grade metal alloy that is presented in 9 striking colours. When it comes to task lighting, Mr. Wattson is a real bright spark. His powerful LED bulb can brighten a room while the 139 glass dimples on his headlamp help to create a warm ambience.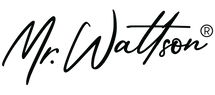 Add