NE PAS UTILISER - BELLE & TOILE
Imagined in Mauritius, Belle & Toile asserts itself as a true lifestyle in a Bohemian and Chic spirit. Exclusive collection of Accessories, ready-to-wear and jewelry in an atmosphere of the end of the world.
We use the craftsmanship of the Indian Ocean, noble materials such as cotton, linen and silk but also embroidery, pearls, sequins, which give this particular touch to our creations. Today, more than 400 B to B customers distribute our brand and trust us all around the world. See you soon.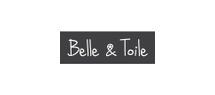 Add to selection