LE JACQUARD FRANCAIS
LE JACQUARD FRANÇAIS, ambassador of luxury textiles in the finest homes since 1888.
For over a hundred years, weavers, tiers, warpers and slashers, all performing their tasks with passion, have been the driving force of our production site located in Gérardmer, in Eastern France. Today, LE JACQUARD FRANÇAIS is not only the benchmark for generations of people who share the same passion for beautiful linen and home decorating, but also an evolving brand which keeps up with changes in entertaining trends.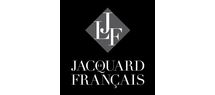 Add to selection