OPINEL
Since 1890 OPINEL has been manufacturing kitchen, table and garden knives. Authenticity, nature-inspired and neo-retro are the brand's buzzwords.
OPINEL is a family business founded in 1890 by Joseph OPINEL. OPINEL manufactures knives and tools in the heart of the French Alps, in Savoie. The famous OPINEL pocket knife, unchanged for 131 years, is part of French heritage and became an international design icon. Simple, efficient, smart, durable, OPINEL knives and tools are available for gardening, DIY, sports, cooking, table, kids...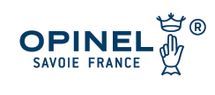 Add
News
18/03/2021 Press pack 130 years

In 2020, the Opinel company celebrated its 130th anniversary. 130 years of history, know-how and tradition. Discover the history of this iconic object, the expertise, the different worlds, but also some testimonies, the environmental commitments, and everything you need to know about the brand.