BELGIUM IS DESIGN
BELGIUM IS DESIGN is a promotional platform for Belgian design in the world, bringing together names that are as personal as they are eclectic.
For this edition, BELGIUM IS DESIGN presents a selection of 11 brands of indoor / outdoor furniture, shelves, lighting, textiles, cushions, throws, wallpaper, wall decor and blinds. The brands: Alinea, Bulvar, BDMa - Designers and manufacturers of blinds, Frederic Richard, Enso de MIira, Gobo Lights, Kabinet Van Look, Larch, NoMoreTwist, Tenue de Ville, Vonk. WALLONIA-BRUSSELS DESIGN MODE and FLANDERS DC.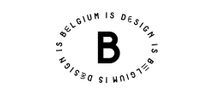 Add to selection
News
14/12/2018 Belgium is Design / M&O 2019 - Press kit

For this new edition of the fair, Belgium is Design showcases 11 Belgian brands in the TODAY section of the fair which offer a variety of products and exceptional pieces: furniture, objects, lights, textiles and wallpaper, custom-made blinds in wood and natural fibers as well as decorative pieces in limited editions. A collective booth organized by Flanders DC and Wallonie-Bruxelles Design Mode.