MANUFACTURE DES EMAUX DE LONGWY 1798
La Manufacture des émaux de Longwy 1798 is more than 220 years of passion and creation! With nearly 1,000 colours and 3,000 moulds, it is a unique know-how that is sheltered within our workshops!
Since joining Manufactures EMBLEM, the Longwy Historical Manufacture has experienced a real creative renewal while reconnecting with its glorious past thanks to its iconographic archives. The small pottery that has become big has established itself in the world of luxury by becoming a «must have» of decoration. In full development, enamels go around the world to delight both traditional and contemporary customers and can be proud to be present today in 16 countries.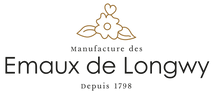 Add