QLOCKTWO - BIEGERT & FUNK
Rewarded by many prestigious design awards, QLOCKTWO has become a must-have decoration item. New variations of materials and colors make it possible to constantly evolve in its environment.
Time in a timeless design! QLOCKTWO makes it possible to mark down time and to have another design of time. The typographic display connects the present moment to the written word and makes it a statement. The concept is available in wall clocks, desk clocks and wristwatches. On the clocks, the face of QLOCKTWO exists in multiple materials and finishes from colored synthetic glass to brushed stainless steel or thermo painted, Cortene steel, gold or platinum gilded.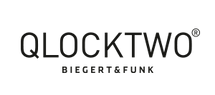 Add to selection