DOM-ART-STYL PIOTR SNIEGOCKI
DOM-ART-STYL presents a new furniture collection of Perla Lusso brand, which will change the space of interiors giving them a luxurious character.
For over ten years we have been producing upholstered furniture that unique style and high quality delight customers from Poland and all over Europe. Our company is co-created by the people with passion focusing on reliability, originality ad durability of workmanship. We offer furniture in various styles, thank to which they reach the most demanding customers. We offer over 400 models of chairs, armchairs, bar stools, benches, poufs, sofas, furniture for kids and for pets.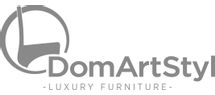 Add to selection