GOBERNACION DEL ATLANTICO
Since 2016, over 100 artisans sponsored by the regional government of Atlántico-Colombia, have rescued traditional craftsmanship; designing, shaping and perfecting unique products for ever day use through a sustainable approach.
The Atlántico Lider Huella Artesanal brand was born from the need to rescue and promote our traditional ancestral craftsmanship. We work with different crafts and materials, among which we highlight weaving with iraca palm, enea and bejuco, wood carving, ceramics and blacksmithing. This sustainable approach includes personal empowerment, entrepreneurship, technical, commercial, and administrative support, allowing artisans to improve their quality of life and positioning their products in the market while contributing their creative talent to the social and economic progress of the region.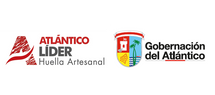 Add to selection