OFYR - INTERNATIONAL / FRANCE
The OFYR is the creation of Hans Goossens, a Dutch entrepreneur and design aficionado with a passion for outdoor entertaining.
Hans wanted a high performance grill with clean, artistic lines that would complement his garden, and weatherproof so it could be left in place all year round, like a sculpture. The result was OFYR, a unique cone design built from rugged Corten steel that over time develops a beautiful weathered patina. A unique simplicity, functionality and beautiful design, which together create a completely new way to cook and entertain outdoors.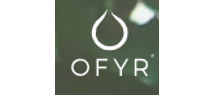 Add to selection