RADAR INTERIOR
RADAR arose from the desire to create a collection of elegant and graphical objects made by qualified traditional European craftsmen. RADAR is the complicity between two enthusiasts of art and design, two towns, two stories, Milan and Paris.
RADAR is the capacity to capture new trends and to be tuned in to clients needs, producing unique custom-made objects. Solid and fluid forms, graphical curves, pure understated design. A spectrum of noble materials provides a timeless elegance to our product range. RADAR's style is inspired by the early codes of industrial design. A contrast of materials. Between the gleam of glass and raw wood grain to the brilliance of marble and the mate finish of plaster. Lighting is an essential component of an interior. The timeless lines of RADAR lighting blend both minimalism and functionality.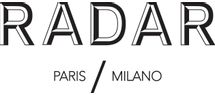 Add to selection
News
10/01/2020 Nouveautés RADAR en avant-première à Maison&Objet

RADAR participe à la prochaine édition du Salon international Maison & Objet 2020, sélectionné de nouveau pour exposer dans la prestigieuse section Signature - Unique & Eclectic, Hall 5A. Ce sera l'occasion pour la marque italo-française de présenter la nouvelle lampe Lafayette. Une première pour RADAR, avec cette fabrication artisanale en laiton.

17/01/2016 Lancement RADAR INTERIOR

Découvrez l'expérience RADAR (link au site) lors du lancement de notre marque d'objet de design au Salon Maison&Objet à Paris. RDV au stand C20 Hall 1 du 22 au 26 janvier.