RADAR INTERIOR
RADAR arose from the desire to create a collection of elegant and graphical objects made by qualified traditional European craftsmen. RADAR is the complicity between two enthusiasts of art and design, two towns, two stories, Milan and Paris.
RADAR is the capacity to capture new trends and to be tuned in to clients needs, producing unique custom-made objects. Solid and fluid forms, graphical curves, pure understated design. A spectrum of noble materials provides a timeless elegance to our product range. RADAR's style is inspired by the early codes of industrial design. A contrast of materials. Between the gleam of glass and raw wood grain to the brilliance of marble and the mate finish of plaster. Lighting is an essential component of an interior. The timeless lines of RADAR lighting blend both minimalism and functionality.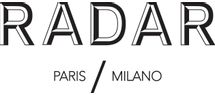 Add
News
07/12/2020 RADAR INTERIOR @Le BHV Marais_Paris

We are pleased to announce that starting from December RADAR INTERIOR is exhibiting its products at Le BHV Marais in Paris, on the occasion of the event Buon Natale, un Nöel Italien. Against the backdrop of a red wall, RADAR INTERIOR, with its double Italian and French soul, is staging some of its most iconic lamps.

09/11/2020 RADAR INTERIOR @DESIGN DAYS LAUSANNE

We are pleased to announce that RADAR will take part to Lausanne Design Days from 5th to 15th November 2020. For this year, the event includes a tour through the city, discovering more than 20 exceptional locations. The Italian-French brand will be inside the Signature suite signed by the famous interior decorator Emmanuelle Diebold at the Lausanne Palace Hotel and at Ketala boutique.

28/09/2020 RADAR INTERIOR @MILANO DESIGN CITY 2020

On the occasion of Milano Design City, from today September 28th to October 10th, Radar presents the new Lafayette brass lamp, together with a selection of iconic pieces, and re-proposes to the public the scenographic Haussmann Collection.