LEITNER LEINEN
Fine fabrics made in Austria - crafted at our weaving mill for 6 generations. Textiles with history, fabric with origins, linen with character. Luxury and sustainability interwoven.
Fabrics made in our manufacture do not call for a confession to sustainabality - because they always have been. Quality, consistency and aesthetics are values that have been accompanying us for decades. Our products are not fast-fashion nor unnecassary status symbols. The collections by Leitner Leinen are created with a passion for detail and consideration of our own history and therefore will accompany us for years, even decades. Flax from Europe's best growing regions represent the foundation of our house.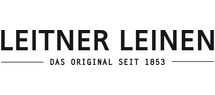 Add
News
10/09/2020 The new 2020 Fall/Winter collection by Leitner Leinen has arrived!

Synonymous with Christmas in many countries, lush green holly with red berries is used to decorate homes in winter. Now this new design from Leitner Leinen spells a fresh incarnation for a genuine textile classic. The leaves and berries of holly (also known as ilex) are woven into the abstract forms of traditional paisley borrowing from pine, cypress and date palms.