QUOTE COPENHAGEN
Quote Copenhagen is a Danish brand that provides a wide range of unique products made of Indian vintage sari. Every single sari is carefully selected to match in colour and style to give the perfect fusion of Indian culture and Nordic design.
At Quote Copenhagen we believe colour has a positive influence on our mood, which is why a large selection of our products come in douche colours and compliment the Nordic colour palette while maintaining an authentic expression. Every single product is "one of a kind" with its own special history and a unique look, which goes perfectly with our Scandinavian lifestyle. Our products include all from mattresses, cushions, Quilt and throw to chair pads and bags. But they all have our overall style in common: Luxury Boheme in douche and soft colours with an ethnocultural but Nordic touch.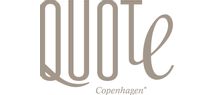 Add
News
12/08/2021 Visit us at Maison & Object 9-13th of September Hall 5A Stand P83

We are happy to exhibit at Maison & Object for the first time and say hello to known and unknown friends and customers. We want to welcome you to Hall 5A, the Danish Pavillion, where we will introduce you to Quotes personal and unique universe, where you can make sure you will be one of a kind. Please send us an email to schedule a meeting, or drop by to say Hello. See you soon. Hanne & Martin

12/02/2021 New B2B platform is ready - Preorder available

NEW B2B WEBPORTAL AND OPEN FOR PRE-ORDER PRODUCTS Log in to out new B2B platform where our one of a kind unique products are open for pre-order

04/11/2020 Junior and Senior facemask available for preorder

Vintage sari facemask from Quote Copenhagen is an alternative for you who want to use something other than the light blue sanitary napkins and still stick to the recommendations that come from the WHO regarding. fabric masks. The masks are available mid November 2020.