L'INDOCHINEUR PARIS HANOI
Since 2002, L'INDOCHINEUR has been creating collections of jewelry, accessories & tableware and commissioning them to be produced by local artisans.
L'INDOCHINEUR's collections bring a contemporary interpretation of traditional craftsmanship while enhancing natural materials such as horn, stone, wood and lacquer. Each collection is conceived with a particular philosophy, between cultural inspiration, technical experimentation and quality execution.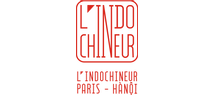 Add
News
13/01/2021 Discover our showroom at Châtillon

We have set up a showroom space in our workshop to facilitate the selections for your purchases. ⚠️Open only upon appointment for professionals. We look forward to welcoming you there. 📍7 bvd de Stalingrad - 92320 Châtillon Monday - Friday : 10:30 am - 5:30 pm 01 40 93 00 52

18/07/2019 New colors for Canh Dong jewels

L'Indochineur present new winter colors for Canh Dong jewels. The structure and contemporary form of the collection was inspired by the rice terraces of Northern Vietnam. The harmonious strata of these landscapes are engendered into our jewelry with an infinite flow of forms, colors and materials. Each piece is conceived as a variation of this theme with changing tones.