HIROTA GLASS MFG. CO., LTD.
Authentic Tokyo Glasswear - Hirota Glass
Founded in 1899, we are the oldest glassmaker in Tokyo and producing handcrafted glassware. Based on rare glassworks, designs, and materials handed down since the establishment of the company, we create products which harmonize with both the experience of eating and the atmosphere of the modern home.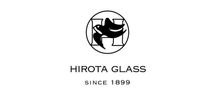 Add