TOULEMONDE BOCHART
TOULEMONDE BOCHART well-knowned since 70 years for his know-how in the creation of quality, contemporary and design carpets. The brand was the pioneer in the development of partnerships with designers and stylists.
The brand offers a various selection of carpets from "Designers to an exclusive Line" to satisfy all the publics in function of their budget and of their taste. But also, TOULEMONDE BOCHART creates contemporary rugs that can be made to measure, playing uponsize, pattern and colour to make unique pieces fulfilling the expectations of our specifiers.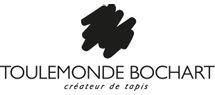 Add
Projects
News
23/08/2019 NOUVELLE COLLECTION

Cette nouvelle saison estivale ne ressemble à aucune autre. Pas de présentation générale, pas d'évènements pour exprimer notre passion de la création et de la modernité. Cette brochure tente de vous donner une vision claire et attractive de cette nouvelle collection que nous avons eu beaucoup de plaisir et de complexité à monter.