TOULEMONDE BOCHART
Attending MAISON&OBJET
06-10 September 2019
TODAY Hall 6 — Stands J49
TOULEMONDE BOCHART well-knowned since 70 years for his know-how in the creation of quality, contemporary and design carpets. The brand was the pioneer in the development of partnerships with designers and stylists.
The brand offers a various selection of carpets from "Designers to an exclusive Line" to satisfy all the publics in function of their budget and of their taste. But also, TOULEMONDE BOCHART creates contemporary rugs that can be made to measure, playing uponsize, pattern and colour to make unique pieces fulfilling the expectations of our specifiers.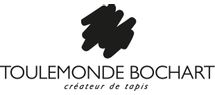 Add to selection
Projects
News
22/05/2017 TOULEMONDE BOCHART presents his new OUTDOOR collection Summer 2017

For this Summer, TOULEMONDE BOCHART puts the emphasis at the OUTDOOR.

19/05/2017 TOULEMONDE BOCHART presents his collection of cushions INDOOR/OUTDOOR summer 2017

Toulemonde Bochart is not only rugs, it's also cushions for the inside and the outside world. With sober colouring in plain and geometric weaves but even colorful with wax patterned fabrics which have a reminiscent of Africa.