ALL'ORIGINE - EUROPEAN MID-CENTURY ORIGINALS
Original European objects from the middle of the century.
ALL'ORIGINE is the leading Italian specialist in European objects of the XX century, ranging from artisanal craft objects for common household use, to rural and industrial artifacts. All the objects we select are original and for the vast majority datable between the 1940's and 1960's. Our research is continuous and has us travelling across all of Europe.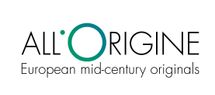 Add to selection