ALL'ORIGINE - EUROPEAN MID-CENTURY ORIGINALS
Original European objects from the middle of the century.
ALL'ORIGINE is the leading Italian specialist in European objects of the XX century, ranging from artisanal craft objects for common household use, to rural and industrial artifacts. All the objects we select are original and for the vast majority datable between the 1940's and 1960's. Our research is continuous and has us travelling across all of Europe.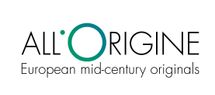 Add
News
09/09/2018 Our Stand at Maison & Objet 2018

For the first we are bringing a along a majority of products from the gypsy culture of Blakans and Hungary. These products, such as wooden picture frames, woven flasks, textiles, rugs, pot holders etcetera, are mostly homemade and often have a rudimental and naïf appearance. They bring along a rainbow of colors, just a bit faded by the passing of times and a load of playfulness and lightness.