Going dotty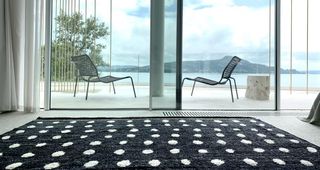 This season, polka-dot prints are back with a bang, but watch out: they're strutting their stuff in a maxi version, with a preference for irregular effects, as though the dots had been painted on with a paintbrush. Discover this trend in our selection.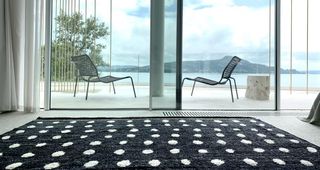 ETHNICRAFT
Translucent Silhouettes tray collection
The Translucent Silhouettes collection of trays artfully layers organic dots atop an aged surface, creating a sense of depth and allowing dynamic combinations to blossom. While the overall result is bold, the collection possesses certain lightness conveyed by the delicate inks and pigments.
MOHEBBAN MILANO
Dots rug
-Design ID: Dots -Origin: Turkey -Hair composition: wool -Thickness: ≈ 0.8 cm -Techniques: hand knotted -Standard sizes: 240 x 170, 250 x 200, 300 x 200, 300 x 250, 360 x 270, 400 x 300 cm -Custom sizes/colors on request
TRESXICS
Watercolor irregular dots wall sticker
One of our best-selling designs, beautiful polka dots with a watercolor effect that decorate the space of the little ones in a few seconds. Low budget, no paint or glue and beautiful finish.
MYRIAM AIT AMAR
Large dot lamps
White porcelain lamps mounted as wallamps with 3m of cable, plug and switch or as ceiling lamps with 1.5m of cable and porcelain rosette. There are 3 sizes: small (h105mm, d105mm), medium (h125mm, d165mm), large (h165mm, d150mm) .4 interior decorations: lace, rice grain, large peas or smooth.2 exterior finishes: enamelled or matte.The lamps that are smooth on the inside and enamelled on the outside can be decorated with fine gold patterns representing birds.2 cables available: golden tubular, or twisted ecru.
MYRIAM AIT AMAR
Lamp S
Pretty small white porcelain lamp mounted as a walking machine with 3m of cable, plug and switch or ceiling lamp with 1.5m of cable and porcelain rose. Ideal as a mood light in your living room or as an reading light at the head of your bed4 interior decorations: lace, rice grain, large polka dots or smooth.2 exterior finishes: enamelled or matte.Smooth lamps on the inside and enamelled on the outside can be decorated with fine gold motifs depicting birds.lamps, suspensions, walking lights, ceiling lights, lighting, porcelain.
INDIGOSTYLE
Paper bags M
A 10-sheet paper bag with a bottom gusset. Red one is an auspicious fish, and black one is a dot pattern that has been used for a long time in Japan. Made in Japan.
MARUMITSU POTERIE
Mizutama Rice Bowl
A charming rice bowl with a dot pattern called "Mizutama" in Japanese, a pattern that transcends generation. Hand-painted, these dots are not a perfect circle which make every bowl a one-of-a-kind. Its sandy surface is the result of a transparent glaze mixed with sand. It gives it a really nice touch, prevents the rice from sticking to the bowl and makes it easy to wash. Available in two colors (white, brown) and two sizes (270cc,350cc). Mix and match white and brown in one set to enjoy color contrast.
CHHATWAL & JONSSON
Linen Cushions - Dot Ari
Cushion Cover Linen Dot Ari is made from 100% linen and hand printed. The linen is hand printed in using silk screens and traditional methods making each cushion cover unique. No inner pads are included and available in several colour combinations
NATTIOT
NOP CARPET
NOP is a particularly original bimaterial rug made from a blend of jute and cotton! The delicate work of finishing the fringes and polka dots is made of cotton and offers an original and poetic general rendering. This beautiful rug is ideal to bring a touch of modernity and authenticity to an interior. A trendy decorative element, designed in a natural material and certified OEKO-TEX that should meet all your expectations!
NORO
Moses basket DOT
moses basket in crochet handmade 100% rafia and embroidered DOt in wool yarn colour dot can be changed cushion 100% cotton included All is natural and All is handamde
COCOON PARIS
Felted Wool Cat Cocoon
We are manufacturers of felted wool cat cotton.Each piece is handmade with natural wool and natural pigments.This is an entirely ORGANIC product. Our cocoons are made in our workshop in Nepal by Nepalese women which allows them to finance the education of their children.Felt is a thermal and sound insulation, cocoon is a real bubble of well-being for the cat.that feels both warm and safe.We offer a wide range of colors to suit all
CHHATWAL & JONSSON
Hand Tufted rugs in New Zealand Wool - Big Dots
The dots design is an iconic design by Stig Jonsson, our Creative Director. The Cactus Green dots, that resemble Lotus leaf pads playfully rise above the light khaki base. This is a hand tufted rug in fine wool from New Zealand and is suitable for all rooms in the house. Available in 2 standard sizes and possible to order as customs size. For custom size rugs send us an email and we will get back to you with a cost proposal.