Charlotte Biltgen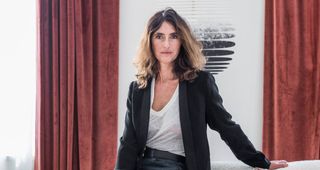 Interior architect and designer Charlotte Biltgen presents her line of furniture at her new Courcelles showroom. Her pure design is a dialogue between curves and noble materials that allows her to create elegant and timeless objects. Discover her selection of products on MOM!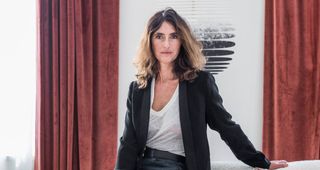 DRAGONFLY
Present Time - Stool
Enamelled and patinated with a very soft antique white color, the Temps Présent stool offers generous curves and pure lines. A very natural stoneware seat inspired by Biot jars typical of the Mediterranean basin. The stool takes up the challenge of a refined balance of colors with ease and efficiency. Versatile, it can also be used as a side table according to one's needs. Its subtle aesthetic in tribute to the materials and colors of Nature allows it to integrate easily into any interior.
MANUFACTURE
Yakisugi – Low table
The design for ' was inspired by the eponymous traditional Japanese technique of charring timber to protect its surface. The deliberately simple lines of this occasional table contrast elegantly with the combination of woods oak and walnut from which it is crafted. With a play on light and shade, indoor and outdoor, the coloured streaks of the legs rise in contrasting positions, eventually blending into the crowning table-top, highlighting the design's silhouette. A feat of artisanal craftsmanship celebrating the beauty of the material.
T'RU SUSTAINABLE HANDMADE
Cushion WARA
100% Premium Baby Alpaca, sustainable hand-woven in Bolivia. Collection WARA shows a modern design based in stripes using natural and earth colors combined with contrast white fiber. This design is created for the simple, modern and elegant customers.
PIMAR
Geo (coffee tables)
Geo is a collection of small sculptural tables generated by geometrical shapes, kept in balance thanks to the different colours of Pimar natural stone: beige, white and grey. Designed by the duo Apospersano. Availble in different models and size ( XL, L, S, C, E). Suitable for outdoor and indoor. Contact us for customize support!
PHYDIASTONE
Little Swan - Ecological stone coffee table
Ecological stone coffee table, created from used materials by a low-energy process for sustainable development. Designed and handcrafted by Phydiastone
URBAN NATURE CULTURE AMSTERDAM
Small Furniture
A range of beautiful small pieces of furniture, each made of a different sustainable material.
LAURENCE BRABANT EDITIONS
Collection HELIX, decanter H
White and coloured glass decanter with a border in another color at the opening. Roll-up work of borosilicate glass chopsticks. Glass work with a flame. Heat-resistant Handmade in our workshop.
MALABAR
Mak Suh Muh Dining Chair
The Postmodernism movement is notoriously difficult to define, this elusive design style was a reaction against the utopian ideals of modernism. Over two decades this art movement established ideas about art and design, bringing a new self-awareness about style itself. Playing with vivid colors and bold shapes, Malabar designers conceived a playful, artsy, and extravagant dining chair. Exclusively handcrafted in walnut wood by our expert artisans, the Mak Suh Muh dining chair is upholstered in different cotton velvet colors and patterns.
MADEMOISELLE JO
POPYLIGHT bleached ash
POPYLIGHT is the sweet name given to a small curved tray, composed of a foot in an arc of a circle and topped by a disc, all in ash wood crafted by the expert hands of a wood turner in Belgium.In a clean lamp version, POPYLIGHT has a small opal globe that proudly sits on the tray and diffuses a soft and subdued light.It is available in 2 versions: bleached ash and black stained ash.
DUISTT
Ipanema Brass Marble Side Table
Ipanema is a collection of simple lines, which results in outstanding pieces with great attention to detail, inspired by the well-known sidewalk in Rio de Janeiro. Custom size and materials available upon request. Handmade in Portugal. Show in Twilight Marble top and brass legs with light bronze finishing.
MOIETY PARIS
Saladier « Amazone »
Les bois : Les produits sont fabriqués sur mesure à la commande, les bois sont donc uniques avec des veinages différents, voir le descriptif des bois. Pour des demandes de bois spécifique, contactez-nous. Nous vous proposerons des essences de bois au fur et à mesure. Certains bois peuvent être remplacés ou complétés par d'autres. Composition : Porcelaine de limoges, bois européen et bois précieux.
DOOQ - WORLD OF DETAILS
Marlon Collection
Marlon collection, designed by Pietro Franceschini
ATELIER PEV
"Le Confluence".
La série Confluence se situe à la jonction des mes inspirations nordiques et japonaises.Sa forme mêle des origines classiques de Puukko scandinave et Tanto nippon pour créer un objet au design contemporain.C'est un couteau à la lame carbone.Inscrits dans l'ADN de l'Atelier PEV, son manche et son fourreau sont en bois glané et/ou recyclé. Ici en ronce d'olivier qui provient d'une petite oliveraie à la démarche environnementale impliquée située proche de Manosque dans les Alpes de Haute Provence ainsi qu'en sapelli upcyclé provenant d'un ancien meuble. Sculpté à la main en France.
Don't forget this designer and interior architect with an exemplary career path, who has not finished making a name for herself! After spending 12 years working alongside India Mahdavi, setting up her studio in 2014 and presenting her 1st furniture collection in the process - often in marble and staff - she has just moved into a beautiful showroom apartment, just a stone's throw from the Parc Monceau. A space of luxurious sobriety, where she brings together works by contemporary artists and her beautifully rounded furniture, such as the Eileen sofa and armchair, or the Moonlight table with its sculptural plaster base. "Plaster is a very feminine material with a powdery feel that I often use on my building sites". She has no shortage of projects in 2023! She is currently renovating a private home in Cannes and a mansion in Montmartre, and is preparing two new furniture collections with Atelier Tortil. And that's just the beginning!