MEDITERRANEAN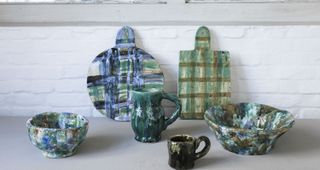 Selection M&0
Drawing its essence from Southern France, Italy, the Spanish coast, the Greek isles, Morocco, and even Turkey, Mediterranean-style decor honors craftsmanship, natural materials such as clay, olive wood, or leather, and to a beautiful harmony of blue tones, of course.
Zelliges
EMERY&CIE
Handmade glazed terracotta tiles, high Moroccan tradition. An exclusive range of 48 colours. For sale at Emery&Cie in Brussels, Paris and London, or www.emeryetcie.com
Traversée Scented Candle, Mediterranean, Large
LOU CANDELOUN
The large Traversée Scented Candle celebrates the intimate connection between the French city of Marseille and its coastal gems, with the Mediterranean scent. The elements, land and sea, are at the core of the Traversée collection, revisiting the unforgettable perfume of the land and seascape. The maritime candle is beautifully presented in a dusty pink jar. Inspired by the south of France, Lou Candeloun creates handmade scented candles and home fragrances to recall fond memories, a person or a place, via unique scents and style.