Cosmic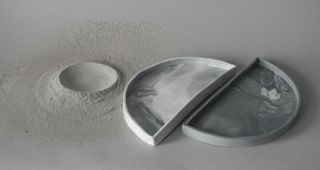 Selection M&0
Now boarding: an astral visit with a selection of cosmic furniture and objects. Lunar ceramics, planetary chandeliers, galactic rugs, coffee tables that look like satellites…
PLANETOIDS
ELOA - UNIQUE LIGHTS
PLANETOIDS are small asymmetrical objects that float delicately in space. Combine their various forms and colors to custom-design the celestial ambience of your room. PLANETOIDS are available as individuals or in trios, quartets, quintets, etcetera, etcetera, etcetera, for creating infinite variations of your own, personal constellations.
Groove table
VINCENT SHEPPARD
The Groove side tables in marble and oak are designed by Brussels-based designer Alain Gilles. With Groove, Alain Gilles and Vincent Sheppard present you a collection of side tables in different sizes and materials, designed to interact perfectly with each other. Thanks to the graphic 'grooves' in the marble or wooden top, the tables have been given a specific alignment and direction, which allows to create a dialogue between the lines, heights and materials of the tables. Available with dark Nero Marquina marble, light Carrara marble or a natural oak wood top.