Cosmic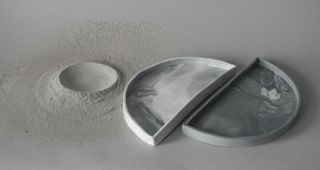 Selection M&0
Now boarding: an astral visit with a selection of cosmic furniture and objects. Lunar ceramics, planetary chandeliers, galactic rugs, coffee tables that look like satellites…
Astral Collection
YFNA
Handmade bowls, cups and plates made of marbled porcelain with gold or platinium edge. Hand wash only. Inspired by the moon and its light this collection is about contemplation and poetry to drop in the everyday life.
Groove table
VINCENT SHEPPARD
The Groove side tables in marble and oak are designed by Brussels-based designer Alain Gilles. With Groove, Alain Gilles and Vincent Sheppard present you a collection of side tables in different sizes and materials, designed to interact perfectly with each other. Thanks to the graphic 'grooves' in the marble or wooden top, the tables have been given a specific alignment and direction, which allows to create a dialogue between the lines, heights and materials of the tables. Available with dark Nero Marquina marble, light Carrara marble or a natural oak wood top.
Hot
BUZAO
Violently psychedelic contrasting colors, extend from extremely hot to extremely cold, without missing any visible light band The specular reflection, the vertical and horizontal erecting of the body, the increased various overlapse of the hue, the mutually environmentally reflected light or shadow.The extremely dazzling illusional colors contrast with the rough humble forms, producing psychedelic, jumping, surreal dramatic feelings. Like an illusion of desire, like a reality that is never real. The mature normal process completes the regular standard rectangular folding surfaces.