1001 SHADES OF TEXTILES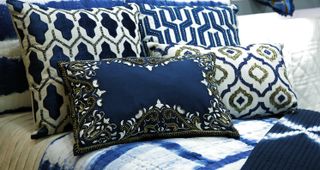 Selection M&0
Aerial fabrics, embroideries, colours, infinite nuances, scaled volumes, intricate meshwork… A selection of the most inspiring textiles on MOM.
THE PATIO STRIPE
LIBECO HOME
THE PATIO STRIPE Named after the beautiful patio at The Manufactory, this will be a really fun stripe to decorate with for dinner parties this summer! Here, salmon brown, navy and bone stripes adorn a mustard coloured, herringbone ground. Available in tablecloth and napkin. 100% linen 225 g/m2
Ojami Cushion (Cotton)
TAKAOKAYA
The ojami is an original cushion developed by Takaokaya over the last decade. The unique shape is inspired by the ancient Japanese beanbag toy called 'otedama', or 'ojami' in Kyoto dialect. The ojami cushion is a funky, modern take on the otedama, a traditional Japanese beanbag toy that was filled with azuki beans. Handcrafted by our skilled Kyoto artisans, ojami come in a rich variety of colors, fabric coverings, fillings, sizes and shapes to suit your taste and lifestyle. Amazingly comfortable and a unique geometrical shape will be a beautiful decorative object suitable to any living spaces.