Eleni Petaloti and Leonidas Trampoukis (Objects of Common Interest)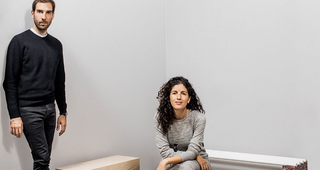 Eleni Petaloti and Leonidas Trampoukis founded Objects of Common Interest with a focus on creating still life installations and experiential environments and objects, demonstrating a fixation with materiality, concept, and tangible spatial experiences. Discover their selection of products!
Table Linen
STUDIO RO SMIT
Linen used to be a product found in Europe in prehistoric household hides, today linen has become a luxury product. Ro Smit has developed a table linen collection together with a weaving mill in Lithuania, which once again shows the purity of the material. Unique to this collection is the natural enzyme washing, which gives the linen a very smooth, soft look and feel. For example, Ro Smit puts a beautiful sustainable raw material like flax back on the map and you have a 100% made in Europe product.
Mind-Pop Mugs
KAPKA ENAMELWARE
A pop twist to traditional enamel, Mind-Pop mug promises to be with you long years to pop up your life and grow a vintage feel in doing so. It will add to your restaurant, home, boat or caravan helping you with hot and cold beverages, serving food, a container for utensils or anything you wish! This beauty of color can be kept clean very easily either in a dishwasher or by hand.