It's all gone cotton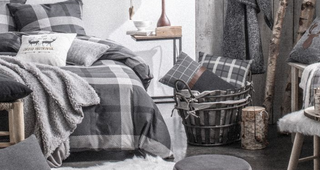 Though it adorns all our beds and tables, cotton also shines throughout the home. It amazes us in decorative accessories, surprises us in light fixtures, enchants us in rugs. Basically, Cotton is King!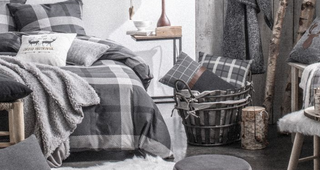 MAISON LEFEBVRE
Coussin Arty
Coussin déhoussable 40/40 ou 30/50
ESSIX
Satin de Coton Triumph line - Duvet set
Our 200TC cotton satin is woven using pure brushed cotton, which is remarkable for tis long robust fibres. The satin weave gives the products a silky feel. MADE IN FRANCE. 3 colors.
SOFTHEADS
Bust I - Sculpture
Textile sculpture made with antique linen fabric and iron plynnth. Unique piece created by Sergio Roger.
CORALIE PREVERT PARIS
Upholstery fabric MINUTE - ON NE SE DOUTE PAS COMME C'EST LONG, UNE MINUTE
The most beautiful original CORALIE PRÉVERT designs are now available in upholstery fabrics. Two qualities for two uses: - 100% cotton velvet printed in Italy / weight: 412 gr / m2 / 138cm width - 100% polyester chenille printed in France FR M1 / weight: 425 gr / m2 / width: 138cm Price upon request.
MILLIE BAUDEQUIN
Olea (petite)
Luminaire from vegetal inspiration, consists of a "foliage" coated with fabric and a steel structure on a solid oak support. Entirely handmade in France. Unique or small series.
OYOY LIVING DESIGN
APPLE WALL BASKET
Whether you need a decorative way to store hats and gloves in the hallway or toys in the kids' room, the versatile Apple Wall Basket is the ideal storage solution for keeping everyday treasures off the floor and tables. It can also be use by the changing table for all the necessities or for extra clothes. Remember to mount within reach of the kids, to always keep toys close by and encourage play and imagination. Braided in natural rattan, it has a distinctive, handmade expression, which gives any room a warm welcoming feeling. Quality: 100% Rattan Dimensions: H35 x L31 x
LA CERISE SUR LE GÂTEAU
Curtain stone washed
Curtains 45% cotton / 55% linen blend. 2 possible ways to hang them. With hooks (to adapt seamlessly to the height of your windows) or the tab-top way of sliding them over the curtain pole. Made in Portugal
KIT MILES
fabrics Biophillia Indigos
The captivating use of Biophillia's imagery sings through our velvet in an amazing repetition of dragon flies, surreal plants and flora, beautifully hand-drawn in our London studio and printed in the UK's finest mills. This exuberant and sophisticated expression of our richly drawn botanical style is a dynamic and royal accompaniment to any interior space.