Blue Moon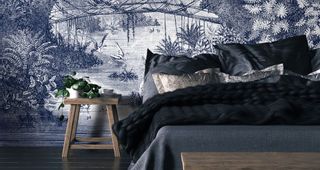 The golden hour… That special moment when night and day join hands. A moment beyond time, ideal for reflection, also a potent source of inspiration for designers who use it to create.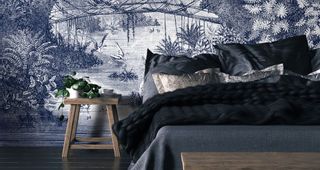 CIMENT FACTORY
Panoramic Engraving Wallpaper - Jungle
This Panoramic Wallpaper highlights the trendy interiors, both by engraving technique and by the monochrome rendering of its 7 current colors. The theme Jungle brings the freshness and the curves of a luxuriant vegetation emphasizing with elegance our furniture and objects of decoration. Available in different adhesive materials, this Jungle Panoramic Wallpaper is fast and easy to install, with no special material or skill. Customization and tailor-made possible. Do not hesitate to contact our graphic studio!
LALIQUE VOYAGE DE PARFUMEUR
THE NIGHT, NAIROBI - SCENTED CANDLE
• Voyage de Parfumeur collection, highlighting Lalique's Hirondelles motif • Satin blue and gold lacquering • Laser cut swallows • Scented candle 190 g • Burning time: 40 to 50 hours
MIMI'LOU
STICKER - PASTILLES PHOSPHORESCENTES
Composez selon vos envies avec ces pastilles phosphorescentes qui brillent la nuit ! Tous nos stickers s'appliquent sur des surfaces lisses (murs, meubles, vitres...) La pose est simple et si besoin l'adhésif peut se décoller sans laisser de trace. Dimension de la planche : 16 x 19 cm Vinyle phosphorescent. À coller de préférence proche d'une source de lumière. Fabriqué en France
UMAGE
Audacious | side table
Audacious side table is very suitable as a bedside table in hotel rooms or next to the sofa. Inside the table is a hidden USB-hub with four USB outlets and a micro-USB so the entire family can charge their phones and tablets at the same time. The side table is a practical solution with storage space for your small bits and bobs.
INSPLOSION
PLUTO RUG
A design inspired by the image of Pluto, the ninth and smallest planet in the solar system, is composed primarily of rock and ice. The representation in shades of blue symbolizes the ice, the stain presented through circles of different colours represent all the other planets that are part of the solar system.
HARTMAN
Hartman posters
Posters designed by artists and generated by Artificial Intelligence (AI)
HENRI BURSZTYN
_M101 Suspension
Spiral galaxy with delicate rays, _M101, the last born of Henri Bursztyn's creations, transports us into the constellation of the Great Dipper. Sculptural and majestic suspension, _M101 unfolds into a whirlwind of light. Graceful spiral with tapered rays, it illuminates the space of a multitude of golden stars. Its beautiful wingspan of 2 meters, its feather weight and its low height make it possible to install it under all the skies!
TRIMM COPENHAGEN
Beanbag XXL Half moon
Invitation to idleness, this sleeper or sunbathing is a real island of rest! Ultra fluffy, this XXL pouf is ideal to relax and spend moments of absolute relaxation inside and outside! With its large dimensions (180 x 65 cm), it is ideal for lying down, lounging for hours... Ergonomic and comfortable, its firm and fluffy padding follows the movements of the body in which it conforms to the shapes. The padding is designed not to deform: your pouf will sustainably retain its original shape and extreme comfort. Handles make it possible to