IMAGINATION SOARING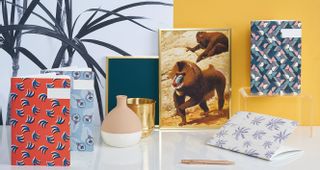 Selection M&0
Start the day with MOM! Discover a collection of products for home or office that help organize daily life with creative promise and reach.
The Pen - Core Collection
AJOTO LTD
The Pen is the perfect tool and companion for your journey. Designed to be used everyday and last a lifetime we wanted the first tool we created to be the one we used to design everything from that point onwards. We have spent countless months refining every surface of the Pen. The result is an effortless tear drop, which tapers from front to back. At the heart of The Pen is the twist, a simple and decisive gesture that works so well you won't want to put it down. We work with the worlds finest precious metal platers and anodisers to achieve the impeccable finish on each and every Pen.
Templo Catchall
OCTAEVO
Thoughtfully designed, these beautiful minimalist notebooks and design objects help you to get organised every day. The durable notebooks come with eco PU and fabric covers, luxurious gold stamping and in delicious gelato-inspired colours. The finely-cut metal bookmarks slip onto a page like a silk glove, while the Nomad pencils sparkle seductively like glittering sunlight on water. An exciting collection of objects that make the perfect, stylish companion and that you'll want with you all the time.
NOTEBOOK #3
SOIXANTE 5
This notebook from the "origine" serie Soixante5 is square stitched glued black. It is one of the Soixante5 paper collection (10 others sizes available) Blue textured cardboard cover Offset 90g ivory paper. plain or ruled 128 pages. This notebook can be wrapped with a leather cover from Soixante5 leather collection. The leather cover has an inside made of natural calfskin and contains a pocket that can hold documents, business cards, tickets, It exists in different leather (calfskin, lizard or cow neckskin) and colors.