As a naturally sustainable fiber, linen certainly belongs in our interiors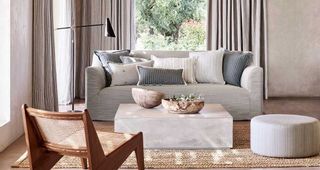 Linen is both striking and reassuring, offering the promise of traceability and social accountability throughout its value chain. Linen is ethical, innovative, and comfortable; linen is practical; linen is unique; linen is European; in sum, it's a local, renewable resource in sync with eco-design principles that can be a major contributor to a "no-nonsense" economy.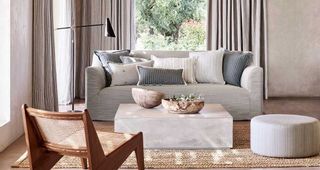 MARK ALEXANDER
CASUAL - RELAXED LINENS
Beautifully simple with an understated appeal, this serene collection of relaxed linens offers a range of subtle plains, dobby weaves and versatile stripes in varied weights and textures. Luxuriously crafted to create alluring drapes and to be reassuringly suitable for upholstery, Casual is presented in a curated palette of soft neutrals and classic combinations of crisp white and indigo blue.
KOHRO
MALTA
100% linen fabric in double width in a wide color palette. The special finishing gives this fabric easy-care quality. MALTA is a versatile item, suitable for bedding sets, table sets, window treatments, and decorative accessories.
STOKER MILLS IRISH LINEN
Portsalon Cushion - Charcoal
Irish Linen Cushion, designed and manufactured in Ireland. Prewashed in the purest spring water our linen cushions encompass the very soul of Stoker Mills Irish Linen. Specification: 55 x 55cm 54% Linen 35% Cotton 11% Polyamide Prewashed Machine washable at 40°C Colours may vary slightly between products due to batch variations. Inner not included.
DE LE CUONA
Cascade
Cascade is as magical as the great cascading waterfalls in the palace gardens of Versailles. This fine boucle linen is an open-weave design, which makes it almost transparent. Each colourway is created from multiple, yarn-dyed threads. A double-width fabric that falls beautifully.
LAPUAN KANKURIT OY FINLAND
NYYTTI Linen-tencel bath towels
Washed linen-tencel bath towels and bath robes- Woven in Finland by Lapuan Kankurit Lapuan Kankurit has developed a soft and highly absorbent technical linen-tencel textile that takes the pleasure of bathing to a whole new level.
LIBECO HOME
"MADISON" BED LINEN
Here is the second part of the Madison collection. A range of pure linen, solid and with a slightly denser weave than our Santiago. Combining classic and trendy colors, it stands out for its beautiful washed-out finish. Available in duvet cover, top sheet, fitted sheet and pillowcase. Existing colors: Cinnamon, Dijon, Navy and White New colors: dark gray, light gray, oyster and white sand 100% linen - washed finish 175 g/m²
SECRETS OF LINEN
HOOP Rug - Contrast
Custom Rug - Hoop Collection Yarn quality - linen & wool color- contrast measurements - 150 X 280 The rugs from the HOOP collection exist out of small loops that are tightly hand tufted together. All rugs can be made to measure in different sizes and shapes. We can combine 100% linen yarns or make a linen/wool combination in different colors to obtain surprisingly beautiful color contrasts. Colors can be put together on request.
TEIXIDORS
Throw blanket TILE by John Pawson for Teixidors
John Pawson's exclusive design 'Tile' for Teixidors consists of three throws and complementary cushions, with a design inspired by architectural patterns: playing with the repeating form of a rectangular tile to generate a mosaic, expressed in three intensities of colour. 'Tile' perfectly characterizes the attraction of the British architect to constructive patterns, to simplicity and to textures that occur in nature. The complete collection is hand-woven in a balanced composition of ecological Merino wool from Provence, France and hand combed ecological baby yak wool from Mongolia.
PIERRE FREY
Cordage
Starting in 1987, Christian Astuguevieille began to design sculpture and furniture in rope. Matter meets meaning when he rolls a rope and sculpts a chair from it; it's also a story of colors, volume and dreams when he paints and coats this creation. He is still fascinated by this process and continues to develop it. The CORDAGE fabric illustrates this work and the artist's research with the development of a weave with a surprising volume that closely resembles the original works and the rope that the artist particularly favors. Here, rope seems to wind around the fabric, forming four interlace
FERGUSON'S IRISH LINEN
Linen Face Masks - Reusable & washable
Made from linen and cotton, our reusable and washable Face Mask can provide protection for long periods of time. Highly breathable and comfortable, with two non-pressure elastic loops. Linen is a very durable fiber and has many benefits over cotton: - Highly absorbent - Anti-microbial - Hypo-allergenic - Highly breathable - Environmentally friendly – cultivation uses less water and chemicals Want to add a custom logo or special embroidery to your order? Send us your logo and we can do the rest!