AFRICAN MOOD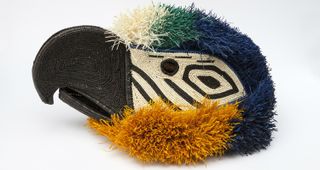 Selection M&0
In keeping with the warmer weather, MOM takes you away to the arid African landscape to discover an incredibly colourful aesthetic. Mysterious masks, braided raphia, upcycled furniture, organic clay... Follow our guide!
Wound thread bracelet
BAAN
Colors : Green, indigo, black, white, gold, silver, yellow Diam. 5,5cm
Original shamanic mask
ETHIC & TROPIC CORINNE BALLY
Handmade by the indigenous women of Central America, these masks have their origin in shamanic rituals. Corinne Bally, who discovered this craft more than nine years ago, has perfected it by working closely with the women of the indigenous tribes. Made in the same way as for the rituals, with the same materials and within the tropical jungle, these masks preserve the magical spirit of the spirits from which they derive their origin. These art objects made in the heart of the jungle are a source of income for these isolated villages.