Patchwork mania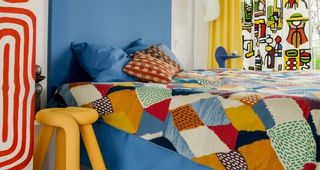 Playful assemblages are all the rage these days! Once used mostly in our grandmothers' quilts, patchwork designs are now back in a variety of forms and materials. The new rules of the game are simple: dare to combine different colors and prints in a single piece.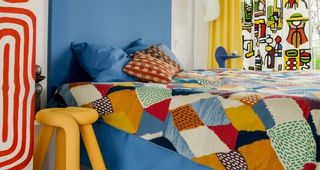 KILIMS ADA
Zakatala Patchwork
We recovered antique rag rugs from Turkey and composed them into patchworks using handmade sticthes, making them into modern decoration items. Mixture of cotton (85%), wool (10%), and goat hair (5%).
PIERRE FREY
Charlotte Upholstery Fabric
Sublime graphic patchwork entirely embroidered, this geometric landscape with warm colors invites meditation.
ONCE MILANO
Linen Bolster Pillow
This pillowcase exudes a timeless elegance and is the perfect finishing touch to any bedscape or sofa. Made from 100% hand made Venetian linen. It can be teamed with contrasting or tonally mismatched bed linen available in an assortment of sombre hues or bright pops of colour to inject vim to any room. The cylinder cushion is designed for bolster pillow and is made from hypoallergenic materials. Inner polyfilling 400gr/sqm included. Small - length 80cm, diameter 18cm Large - length 90cm, diameter 18cm
NYAMAN GALLERY BALI
Lampung Beaded Hat
Traditional farmer's hat from Lampung, Indonesia decorated with colourful beads with a unique design pattern originating from the local community. Comes with a metal stand.
CERAMICA FRANCESCO DE MAIO
Mèlange ceramics
A traditional Vietri ceramics harmonious decorative composition. Ceramica Francesco De Maio traces six centuries of history in a game of decors patchwork and colours suggestions. Historical memory combined with the charm of an unique and sophisticated craftsmanship. Ceramic tiles inspiration reflect the desire of freedom that dwells in everyone, according to the flair that craves in every creating spirit. Mèlange '900 and Mèlange '901 create an unique style, characterized by an modern artistic mark. Entirely hand-made decorations, stolen from a Mediterranean timeless character.
NEST
Gemstone Table Games by D.A.R Proyectos
Our gemstone games are reimagined classics, a unique combination of naturally coloured gemstones that solve into a simple puzzle or act as a playful desk object to form into any shape. A playful decor piece when not in use. Gemstones including Celestine, Serpentine, Jasper, Esteatite. Each game is a unique mix of stones, similar to images, but entirely one of a kind. Cube: 5 x 5 x 5cm Tangram: 11.5 x 11.5 x 2.5cm Tetris: 11.5 x 11.5 x 2.5cm TicTacToe: 11.5 x 11.5 x 2.5cm Dice: Set of 4, each 3cm square
MARKET SET
MkS X SL malachite wall light D40
Two-tone conic wall light/ceiling light, with painted metal base, sanded finish. Lampshade Made in France. Designed in France and registred patterns.
VALERIE BEAUMONT
Sideboard "SEAN"
Low sideboard in bleached oak and four doors patinated on the theme of oxidation, patchwork, materials. Protection for the whole of a satin varnish.
MAGMA HEIMTEX
Yakka Loft - bean bag - Pouf - footstool - footrest
Loft Yakka impresses with its unagitated, classic design, which in combination with the exciting patchwork look makes you dream of faraway countries. It brings the trendy boho style home and looks completely timeless. The cover is made of 80 % wool and 20% cotton, which makes it a valuable and durable home accessory..
WALLACE SEWELL
Honeycomb Throw Edith
Wallace Sewell's trademark honeycomb throw is woven in merino lambswool to create a bold, contemporary, reversible piece, with a bouncy feel. This design is available in two sizes, SMALL 105 x 165 cm, and LARGE 165x 200 cm. However, please note all items are hand finished and sizes can vary by +/- 5%. Each throw is beautifully finished with twisted fringes on two edges, adding an extra tactile detail. To preserve their quality, we recommend Dry clean only.
TOULEMONDE BOCHART
BAYA Carpet
Florence Bourel interprets here all the fantasy and richness of the traditional patterns of the Rajasthan block print where a profusion of colours, materials and weaving effects are telescoping in patchworks. The color of the Baya rug invades space with its design that is between false tradition and true modernity. Dimensions: 170×240 — 200×300 Available in special size