Culture from home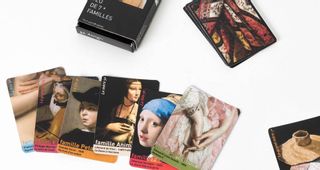 Even if we can finally get back outside and visit museums and exhibitions, home remains a marvelous place to soak up some culture. Music, literature, paintings, architecture, films...There are so many ways to invite the arts into your home space, so you can enjoy them at your own pace...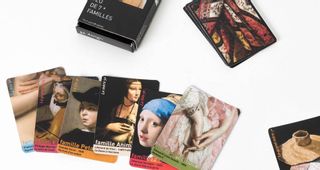 PA DESIGN
Focus on art - Game of 7 families
Jouer en famille ou entre amis permet de partager des moments inoubliables. Ce jeu des 7 (8) familles fait découvrir 48 peintures en se focalisant sur des détails [visage, nombril, main, pied, dos, animal, chapeau, musique]. Le nom du peintre, sa date de conception sont indiqués sur les cartes. A Pa design l'art a une place de choix! Venez découvrir notre sélection! Nous espérons que le bonheur de découvrir des détails de peintures sera aussi plaisant que le plaisir que nous avons eu à créer ce jeu. Petit plus, nous y avons mis un Mistigri pour varier les divertissements! L'art, on aime :-)
WOOD TAILORS CLUB
Wordsworth Bookcase
Entering a gentlemen's club leads into world of privilege, enriched with pieces like Wordsworth Bookcase. Inspired by William Wordsworth, who helped found the Romantic movement in English Literature, Wordsworth is carefully handcrafted in noble walnut wood, finished with natural matte varnish. With a rectangular, four-legged majestic structure, Woodworth Bookcase displays compartments with different sizes, safeguarding every gentleman's needs. Like literature is said to engage one in a captivating journey, Woodworth Bookcase helps to sustain an exclusive atmosphere.
CROSLEY RADIO
Record Player Crosley Voyager with Bluetooth Out
Crosley brings analog music into the 21st century with the Crosley Voyager record player. This briefcase design record player stands out because of the grill at the front where the two speakers are located behind. Crosley kept the design of the Voyager minimalistic and with the Bluetooth receiver this record player is perfect for everyday use.
SLOW
BIBLIOTECA MUTA
Biblioteca Muta ( Mute Library ) is a collection of 10 precious notebooks, superb object books inspired by the classics of literature. Hot foiled printed title on a colored binding gauze on the back, hand-painted edge. The cover has an aged aspect and a relief stamp. Each notebook is handcrafted in a color gradation, in our Florentine laboratory. PEFC paper - acid free. dim cm 17 x 12 x 2,5 - 320 pg
URBAN NATURE CULTURE AMSTERDAM
Decorative Object Galatone
"Into the statue that breaths, the soul of the sculptor is bidden." Richard Realf | The relentless speed and automation of everyday life has us longing for simplicity. Returning to the core of our being, retracing nature. It's visible in both the world of art, as well as the creative side to interior design. Urban Nature Culture's Galatone decorative object is a great example of that. It's an ode to the sculptors of old, the masters of the renaissance, but also a modern translation of it all.
SOPHIA ENJOY THINKING
Apollo head horizontal statue
The twin brother of Artemis, the ancient Greek God of archery, music and dance, truth and prophecy, healing and diseases, the sun and light.
ETOFFE.COM
Fuji Bleu Panel
uji bleu is a panel representing one of the sumptuous prints by Japanese artist Katsushika Hokusai exhibited at the National Museum of Asian Arts - Guimet and from the archives of the Réunion des Musées Nationaux. It is part of his famous series The Thirty-six Views of Mount Fuji. This creation elegantly depicts the sacred mountain in both soft and deep blue tones bringing serenity and charm to spaces. Photo (C) RMN-Grand Palais (MNAAG, Paris) / Thierry Ollivier
NEW MAGS
The Martini | Book
Sophisticated, evocative, and delicious, the martini will never go out of style. Appearing in countless movies—for example, any one of the Bond films—it's one of the most popular and well-known cocktails of all time. Making a martini is simplicity personified, the classic recipe requiring just two ingredients (not counting the garnish): gin and vermouth. And now man-about-town Matt Hranek is here to tell us everything we need to know about the iconic cocktail.
IMAGE REPUBLIC :
LA GALERIE Photography
The result of a close collaboration with photographic agencies, each of the photos that compose this collection is a favorite. In this selection, the great characters of history rub shoulders with other planetary icons belonging to the world of sport or the arts... We also find the wild beauty of the animal world and the clichés that testify to the genius of man, especially through his industrial achievements.
TODINI SCULTURE
Male torso
Male torso carved on a beautiful Carrara marble of quality placed on a base in Roman travertine stone from which it is separable. It is part of a series of works that reproduce sculptures with the "relic of museum" aspect of the Todini Laboratory, a workshop named in 2011 by the Lazio region "of high aesthetic and cultural value", with the use of the brand of origin and quality. In 2015, the OMA of Florence included them in the list of excellence of Italian crafts. dimensions are, including base, H.50 x 19 x 11 cm - the weight 9 kg
LETTERBOX
Peter Pauper Journals
A pleasure to use, each journal provides lightly-lined pages of opaque, acid-free paper that takes ink or pencil beautifully, as well as lie-flat book-style binding.