All the creative vitality of artists of the matter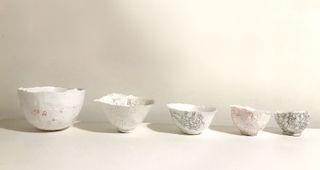 Fine craft workers, material artists and artwork manufactures come together in a world entirely devoted to creativity. Exceptional know-how characterizes an unequalled offering, with unique, traditionally inspired or contemporary pieces and objects that have the power to create emotion.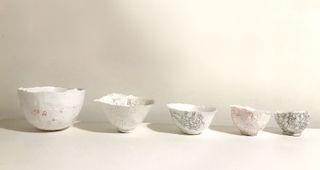 MAXIME PERROLLE
Seeds Small Sculpture
Dimensions: 18 x 8 cm - 23 x 9 cm Wood: Oak Techniques: Turned/Sculpture/Stained Year: 2019
FOUCHER-POIGNANT
Engraving and embossing 50 cm x 75 cm black and gold
Linocut and embossing on paper, 50 cm x 75 cm, from a series of three, limited to 10 copies. Other topics exist, contact us.
MU - LUMINAIRES ET MATÉRIAUX EN POLYMÈRE MINÉRAL SOUPLE
BURO Pendant
Hand-stamped silicone cone inserted into a black E 27 conical bakelite socket. The whole is suspended by a cable. The surface effect, a plastered impression reminiscent of lime walls, creates a play of material through the flexibility of silicone. Each copy is unique.
LANDRY CLEMENT
Cheops GM
Oak sculpture, tinted by oxidation, tempera gilding and mixing gilding, 23 carat gold. Hand carved. Steel base. Signed work. Limited to 10 copies. Available in white and in other dimensions.
VERONIQUE JOLY-CORBIN
Illustrated tiles
PORCELAIN TILES Hand-painted tiles to be integrated into kitchen or bathroom credenza tiles. These tiles combined by 4 become a story that you compose, hang or put down like a picture. Bathroom, kitchen, outdoor dining room, garden decor... under a trivet, integrated into the top of a piece of furniture... many possible uses. Carreau = painting = unique signed piece PEN DRAWING ON PORCELAIN DIMENSIONS 20X20 CM Beautiful wall decorations in a "hand-painted" and "Made in France" perspective...
ANAGOLD
Egret Sculpture
The Egrette sculpture is a decorative object to put on a base, in brass gilded with fine gold and decorated with feathers. Customization can be made to order.
THIERRY LAUDREN
Wall sculpture "Mouvement"
wood sculpture stained or painted, custom made
ANNE KRIEG, CERAMISTE
Milky Way Goblet, Droplet or Tripode
3 shapes : Milky Way Goblet, Droplet or Tripode in white, corn or grey stoneware. The use of the dishwasher, traditional oven and microwave is advised for a daily use. These pieces were imagined, designed and cooked in my Toulouse workshop.