Tidying up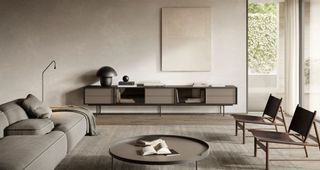 The time to tidy up is now! Back-to-school often means change and renewal, so it's time to sort through and classify things to get rid of what you don't need and keep only the essentials... and keep them in good order.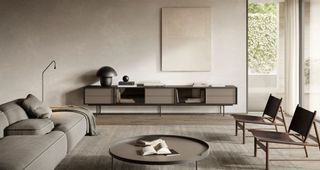 UNIQKA
Zin Table
Having a storage to hold anything from magazines to firewood, Zin is a multi-functional and versatile side table. With its timeless design, Zin is suitable for any surrounding. Thanks to its solid leather handle, Zin can be carried to any desired space.The table is handmade of powder-coated steel and completed with a sling and a handle made of vegetable tanned leather.Having a simple yet strong form, Zin is an eye-catching piece for interiors. Having a delicate form and a strong character, Zin is both an appealing piece for interiors and a versatile object for everyday use.
TREKU
Aura TV Unit
The Aura collection has been designed as a range to configure mainly sideboards and living/dining furniture. Its design is inspired by the past and is placed under the influence of the culture of the Scandinavian style, which has been able to combine tradition and naturalness with a great dose of modernity. The result is a collection full of memories that exudes a very current aura.
BENSIMON
HOUSE CASE
At Bensimon, the house case is the iconic product of the brand on the decoration side, just like the tennis shoe is the iconic one on the fashion side. It is quite simply the modern version of the cardboard box but not concealed and which combines aesthetic and functionality! To store, organize, stack, the house cases exist in three sizes, in multiple colors and fabrics and are adapted to any interior.
MUSKHANE
PLAIN & BICOLOR CALABASHES & COVERS - Handmade in felt
Our collection of baskets and calabashes, full of pure and organic lines, brings a beautiful and sophisticated storage solution for every room of your home. Beautiful and functional, the Calabash knows how to make itself useful in your home. You'll love its softly rounded forms and velvety touch, as well as its infinite possibilities for organization in every room of your house. Our advice: Be bold, mixing colors and sizes for an eclectic effect. Sizes : S: Ø 25 cm h 19 cm / M: Ø 33 cm h 27 cm / XL: Ø 40 cm h 30 cm
RUDI BY GIOBAGNARA
CIRCUIT BASKETS WITH DIVIDERS
Finest regenerated reinforced leather baskets with dividers, provided with water-resistant and UV-resistant finish. It features a characterizing dark-stained metal handle. Available in two sizes, one with three and the other with six dividers.
MADEMOISELLE JO
Spinning top shelf TOUPY 38 cm - Black stained ashwood
Vide-poche en bois tourné, frêne lasuré noir.Avec la forme d'une toupie en bois, TOUPY est une étagère futuriste. Sa forme ronde fluidifie l'espace et permet d'ajouter une touche sobre et élégante à chaque intérieur. Toupie en bois de frêne lasuré noir, travaillé au tour. Barre de suspension en métal plein laqué noir mat (disponible aussi en laiton).Patère plafond, hauteur standard 150 cm du plafond.Rallonges de base de 100 cm, 30 cm et 10 cm. 3 visses noires et 3 chevilles. Dia. plateau : 44 cmNous pouvons répondre à des demandes spécifiques, n'hésitez pas à nous contacter.
GASSIEN
Joackim Shelf
Wall shelf to compose yourself, several possibilities of arrangement. Finesse and lightness for all rooms in the house 2 bases, 5 boards, 12 color combinations... Customization services dedicated to pro layouts (colors, accessories, modules... customized) Tips: - complete with other accessories, boards, wall bases... - create your compositions thanks to our configurator Gassien, sustainable furniture, eco-responsible and made in France designed to last and accompany you according to your desires today and tomorrow.
&KLEVERING
Lamp bolete
What's not to love? This lamp, with its curvy base and bold-coloured shade will add that original touch to your living room or office. Made for a large fitting (E27). Lamp bolete pink - 2754-01 Lamp bolete lilac - 2754-02
HERMAN MILLER
Layout Workwall
As part of the Layout family, Layout Workwall benefits from our wealth of knowledge and skill in producing systems furniture which started with the revolutionary Action Office System in 1968. Use Layout Workwall to create welcoming private offices with storage and display space which complement the desking. In open plan settings, Layout Workwall can be used as a way of integrating additional storage space into the landscape.
OH INTERIOR DESIGN
Extension Cord for 2 Plugs - Navy & White & Yellow
The translucent acrylic glass frame is made in Austria and assembled by OH Interior Design with two sockets and a textile cable. Yellow tube 3D printed in Austria. All parts are sourced in the EU. The OH logo is symmetrically engraved on the two side discs of the frame. Sockets: 2 identical side sockets (Berker) Plugs: Type F (Germany, other EU countries) Voltage: 230 V Cable : Length 5 meters Connector: With ring to easily remove the wall plug
WILDLIFE GARDEN
Bookend Woodpecker
Decorative metal bookend Our popular silhouettes are now functional. The bookends will keep your books in place and gives a tidy impression. They stand sturdily and are a delightful decoration for your book shelf. This bookend, intended to be to the left of your books, helps you keep order in your library and at the same time adds a lovely decorative element. The same bookend is also available for a right hand side placement. The left and right sided bookends are sold individually. The bookends are made out of a single piece of black powder coated steel.
ESSENTIAL HOME
GIULIETTA | Screen
The precious crossing curved brass frame of this beautiful screen, named after Giulietta Masina, creates an elegant dialogue with the upholstery- deep yellow or peacock velvet combined with a fifties' taste fabric. MODERNIST CONCEPT The interesting octagonal patterns rediscover the taste for decoration, a detail that is very typical of the modernist design concept.