Super senses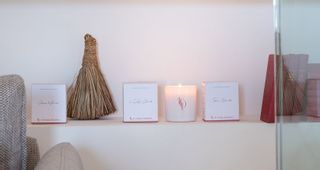 Selection M&0
From anosmia and agueusia to the ban on touching, contactless payment, digitalisation and virtualisation, the health crisis has put our five senses to the test. Natural fibers and materials are back with a vengeance, for creations and products that are softer and call upon the senses. Let's develop our super-sensitivity!
Like a Black Orchid soap
ÉLIMÉA
Live a whole new experience in your bath & in the shower with Comme un Soap, the brand new product from the house of Éliméa. Neither solid nor liquid, this foam is simply used like a soap. Slightly exfoliating, this foam perfumed with Black Orchid transforms into a fine foam, it effectively and delicately cleanses all skin, even the most sensitive to make it soft and leaving a veil of perfume.
SALT OF SIWA Tealight Holder
TAKECAIRE
Light up your tables with our salt stone tealight holders! This unique material directly from the drying of the salt lakes of the Siwa Oasis, a mixture of petrified sand and salt gives a warm and soothing luminosity. The glow of the candle shows the translucent aspect of the material. Thus the salt stone is known for its soothing and well-being powers. Cubic or pharaonic tealight holder, hand-carved in the artisan's workshop. 3 standard sizes. Customized dimensions are possible with a minimum of 100 pieces.
Aleppo soap with olive oil and laurel 20%, mini size 25g
KARAWAN AUTHENTIC
Savon d'Alep traditionnel riche en huile olive (80%) et en huile de laurier (20%). Convient pour tous types de peaux. L'huile d'olive hydrate, et nourrit la peau. L'huile de laurier possède des vertus assainissantes. Dégage un parfum tonifiant. Savon d'Alep moulé à la main. Un format nomade idéal pour le voyage ou pour offrir.Notre savon d'Alep est fabriqué avec notre partenaire historique maitre savonnier d'Alep à 60km de la frontière syrienne avec les mêmes ingrédients et le même savoir-faire ancestral.Utilisation quotidienne : corps, visage (lavage et rasage) et mains.