TERRACOTTA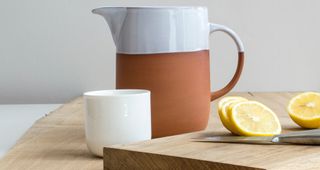 Selection M&0
This week, MOM is drawn to the heady atmosphere of the red city's streets to compile a summery selection of design objects. The colour of red clay, Marrakech's signature hue, leaves a subtle taint on terracotta pieces, as well as on textiles and accessories.
Handrails
EMERY&CIE
Handmade tiles in glass, mirror scales, ceramics with relief or painted by hand on order. For sale exclusively at EMERY&Cie in Brussels, Paris, London and through www.emeryetcie.com
HERO model carpet
TOULEMONDE BOCHART
Hand knotted wool and cotton Net effect for this traditional chibouri pattern. The art of dyeers and weavers here offers all the richness and perfection of the interpretation of the pattern in the diversion.
Fifties coffee table
RED EDITION
The Red Edition coffee tables are handmade. Each layer of lacquer requires an extraordinary attention to detail and craftsmanship in order to get such a beautiful depth of colour. Available in 2 sizes, the Red Edition coffee tables allow you to combine them in an infinite variety of positions. The large coffee table is perfect in front of your sofa and allows you to organise your drinks and nibbles! The kidney bean shaped coffee table is available in black, grey, yellow, rose, eggshell blue, sky blue, metallic green, true beige, or brass. Also available in white marble or solid oak.