XOOPAR
We are specialized in smartphones accessories since 2008. Our new collection is eco-friendly by using eco-material and re-usable or recycled packagings.
Xoopar is a brand that built its reputation over colorful, fun & travel gadgets. Pillars of our creative team. In 2020 it's Green in technology : Xoopar is the first high-tech gadget brand that carries sustainable practices into the company's heart with a long-term sustainable road-map. We apply sustainable practices throughout the whole process : - Involvement of suppliers ( recycled leather, vegetable inks...) - New sustainables materials (Wheat, coffee, recycled bottles) - Responsible wrapping and packaging - Green reorganization of the offices - mainly boat delivery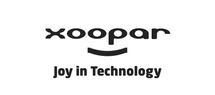 Add
Projects
News
14/04/2021 LA VOIX Le Mag & MR BIO SPEAKER à l'honneur!

Mr Bio Speaker, une mini-enceinte plus respectueuse de l'environnement Les deux principales qualités de ce tout petit objet sont sa compacité et les efforts de ses concepteurs pour limiter son impact environnemental. LA VOIX le Mag a testé !

03/03/2021 Top selection by Management magazine

Our power bank and Mr Bio Pack are in the top position!

03/03/2021 The High Tech Games Mag tests our Mr Bio Speaker

"Mr Bio Speaker is a very nice Bluetooth speaker that won us over. Its eco-friendly side plays a big part in the balance for those who care about the well-being of the planet. Add to that a fun look, as well as the ability to take photos via its shutter button, and you've got a compelling camera. For my part, Mr Bio Speaker has found his place at my desk!"