STOKER MILLS IRISH LINEN
Exclusive Collection of Irish Linen Accessories, designed and manufactured to the highest quality. Stoker Mills continues to weave history into the very heart of every product.
Located in the heart of Belfast, which was known historically as one the largest linen producers in the world, Stoker Mills continues to breathe life back into the Linen industry and produces a unique and exclusive collection of Irish Linen accessories using only the finest quality materials. With over 40 years experience in the designing, weaving, dyeing and finishing of linen, we offer the client the ability to order small quantities from our distinctive collection of accessories or support them in developing their own personal vision. Just like you, we are simply passionate about linen!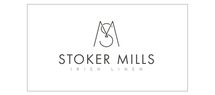 Add